Beef Market & Cattle Prices in 2022:
Challenges, Forecast and Needs
Did you enjoy this episode?
Beef Market & Cattle Prices in 2022: Challenges, Forecast and Needs
How are the beef market and cattle prices right now? What will it be in 2022? What will be the lingering impacts of COVID-19 and the widespread drought we experienced in North America this summer?
Get answers with manager and senior analyst Brian Perillat.
Our guest - Brian Perillat
Manager and senior analyst at CanFax, Brian Perillat has been involved in agriculture all his life. His focus has been around agriculture, specifically the beef industry, and he has gained a more in-dept understanding through experience as an economist, consultant and cattle market analyst.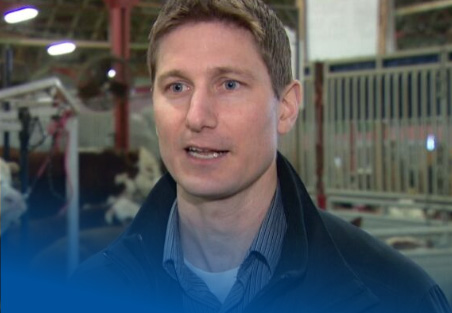 Join the Rumination community​
01:17:00 – Could you summarize for our audience what the cattle markets are looking like heading into the fall in North America?
There are a lot of positive aspects to the beef marketplace right now:
Beef demand is phenomenal in Canada and the United States, and China stepped into the North American beef in a big way in the last couple of years. Japan and South Korea are also growing markets who are competing for our meat supply. And even if the retail prices have continued to increase, consumers haven't backed off on their beef purchases.

There is a lot of opportunities since cattle prices moving forward hasn't translated into higher prices for producers.
There is also a lot of uncertainty:
There are food service and supply chain disruptions.
03:03:00 – What were the weather challenges this summer and how do you think will it impact calves coming off pastures and the market in general?
The drought limited food supply, and running out of pasture and water will lead to a larger contraction in the herd this year than we anticipated. Looking forward, we're probably going to see more cows going to town because of the feed costs that are so high.
Plus, the drought is so widespread that you can't just go to the next province or a few counties over to find feed. It's just not there.
On the bright side, the calves that are going to sell will be going into a stronger market in 2022, so this should help compensate.
06:58:00 – Do you see other uncertainties, market challenges or lingering impacts of COVID-19?
Cattle prices exploded, but cattle numbers tightened.
There is a big gap between beef prices and cattle prices.
Labour shortage is an issue.
Cattles that should have been put on feed early in 2020 and been processed already are still in the system.
If demand stays strong, the price should also improve.
08:20:00 – What would be your key take-home message for our audience based on where the markets are heading, and what do you suggest they do?
You need to plan your feed supply and determine how much you are willing to invest in this cow to get her through the winter. With a relatively intact herd, there's an opportunity to get some returns. Also, as feed is hard to get, you have to find different ways to feed that cow. There are hopefully a lot of options with ruminants.
The longer-term outlook is still positive, and until then, risk management and patience are key.
You have a question or topic suggestion?